Ponds & Rock Gardens
Ponds can add a dramatic addition to any property or garden. Using natural materials, Worthington Valley Landscaping can create a private oasis that adds charm and value to your property.
Services Include:
Water Gardens - Ponds with aquatic plants
Koi / Fish Ponds
Formal Ponds
Ponds with Waterfalls
Pondless Waterfalls
Natural Ponds
Ponds With Fountains
Ponds with Stone or Paver Patios
Waterfalls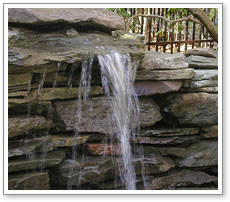 Contrary to popular belief, waterfalls can be installed without the presence of a pond. These types of waterflls simply recirculate water. You can enjoy the sight and sound of running water without the maintenance of a pond.
The waterfall is undoubtedly the most beautiful and favored feature in a water garden. If space is lacking in your yard or you have safety concerns with a pond, this could be a great addition to your property.
Ecosystem Ponds
An ecosystem pond works with Mother Nature to provide food, shelter, and safety to the wildlife around it. It also provides you with an all-natural, low-maintenance addition to your proprty. Worthington Valley can work with you to install an environmentally friendly pond that adds beauty and charm to your residence.